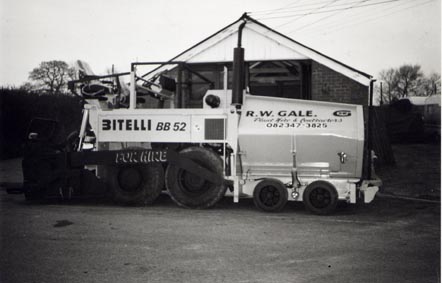 Civils Surfacing Driveways based in Somerset for over 35 years.
Richard Gale founded the company in 1974 with one excavator. Developing from general site work into Groundworks and Civil Engineering, this included asphalt surfacing crews, and the addition of road laying machines with the associated plant and equipment.
Richard continues to enjoy his position as the Founder of our company, his knowledge and experience is of great value to us.
Today the company is solely owned and operated on a daily basis by Richard's Son-in-Law, David Lacey. Our team of committed people are all experts in their field, we are a true family firm and are proud of our heritage.
Contracts now encompass the construction of new build estate roads to adoptable standards, footpaths and parking areas, commercial and industrial civil and surfacing works, residential driveway construction and turning areas. We are able to carry out private works on the Highway – dropped kerbs, vehicle crossovers, all utility connections can be catered for as we are all NRSWA accredited and hold the required insurance cover. We are also very active in the residential market, being a popular choice locally for driveway reconstruction, modification, drainage and dropped kerbs, completed to Local Authority standards.
Our premises, situated in Wellington, Somerset were constructed by ourselves in 1988-1989, being custom built to the Companies requirements.
All works completed carry a conditional guarantee – references are available from completed contracts and works. We own and operate all of our own plant & equipment – all operators are fully trained, holding the relevant CSCS and CPCS entitlements. We hold our own Environment Agency Environmental Permit to enable us to recycle as much of our waste at our premises as we can into certified and useable construction products.
Pictured above is our Bitelli BB52 paving machine, new in 1988 – still performing faultlessly to this day.
R W Gale Ltd No1 in Somerset for Tarmac, Driveways, Roads, Car Parks, Dropped Kerbs, Groundworks, call 01823 663825
Watch our short video by clicking the picture below.